I recently had to travel for work and stay overnight in a hotel. Since this was a quick trip, and the weather was fair, I decided to travel mega light. This trip also allowed me to really try some of the performance wear I have, and see how they performed.
I took a small backpack with some toiletries and the computer equipment I needed. In terms of clothing, I took the items below.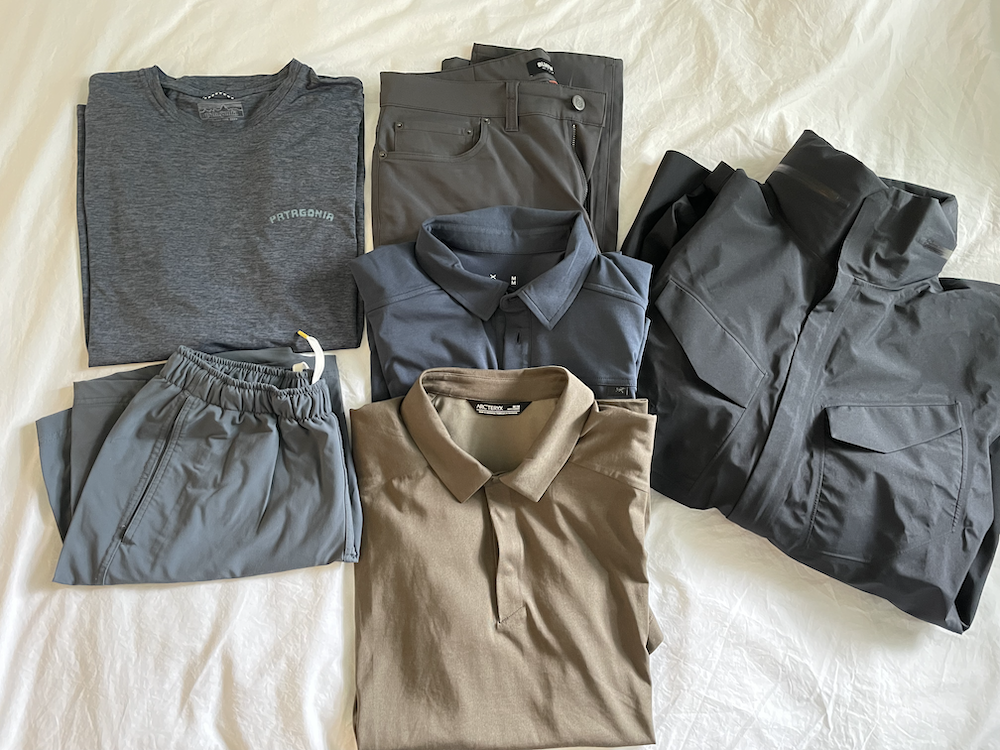 A Patagonia Capilene shirt (for hanging around in the hotel)
An Olivers All Over Short (for hanging around in the hotel)
Bluffworks 5 Pockets Pants
Two Arc'teryx polos (one for each day)
A Veilance Field LT jacket (it was going to be rainy on the first day)
This easy, lightweight, and packable combination of clothes enabled me to travel with only a small backpack. It was in and out of the airport.
The first day was a bit warm and rainy, but the Arc'teryx polo was able to wick sweat in a good way, while the Field LT jacket kept the rain out without being an overheating piece.
The pants are dressy but stretching and light weight, so they allow for good movement and comfort both on the airplane and while walking in between meetings.
Overall, it was a good choice. Simple colors, comfort, and technical elements on an outfit that can help you blend in many places.
Test it, try it, find what works.