A couple of weeks back I traveled for a project. It was a quick one, in a rather safe city, so I opted to pack very light and go. The small footprint let me move smoothly once I arrived, and I was able to complete the first part of the project even before checking into the hotel.
I love these quick projects, they are often fun and I can play with new technology, software, and methods. In this case since most of what I needed to do was observation, I really opted for a light approach, with my iPad being the only thing I brought for the project. Just notes, some pictures, and maps. Perfect for the city.
The ability to move fluidly and fast is good for many reasons, with safety being one of them. Being light allows you to be more comfortable, preventing your attention from being diverted all the time to your clothing or what you are carrying, enabling the ability to remain connected with the environment and being more aware. In the mountains and on the field, speed is safety; so it's the case when you are commuting or traveling. It's a matter of managing your situational awareness.
This is all I brought, with some stuff packed in a GORUCK Bullet 15: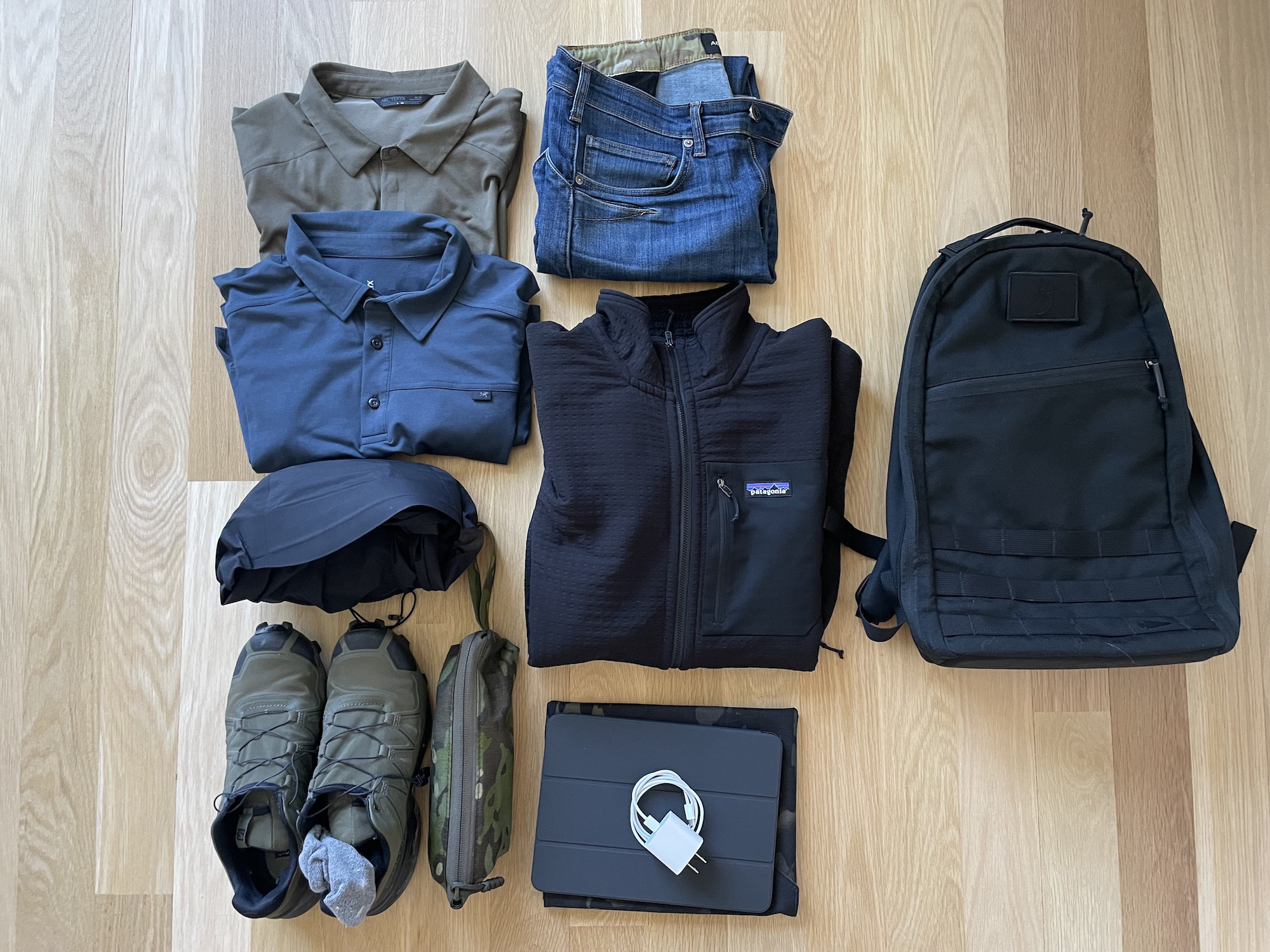 Two Arc'teryx polo shirts (one worn, and one for the next day)
A pair of jeans (worn)
Patagonia R2 Techface fleece (worn)
Arc'teryx Zeta FL rain jacket (packed)
A pair of socks (worn)
A pair of underwear (worn)
A pair of shoes (worn)
A small dopp kit with toiletries and E&E kit (packed)
My iPad and charger (packed)
Phone, wallet, and sunglasses (on me)
It all fit with ample space inside the backpack.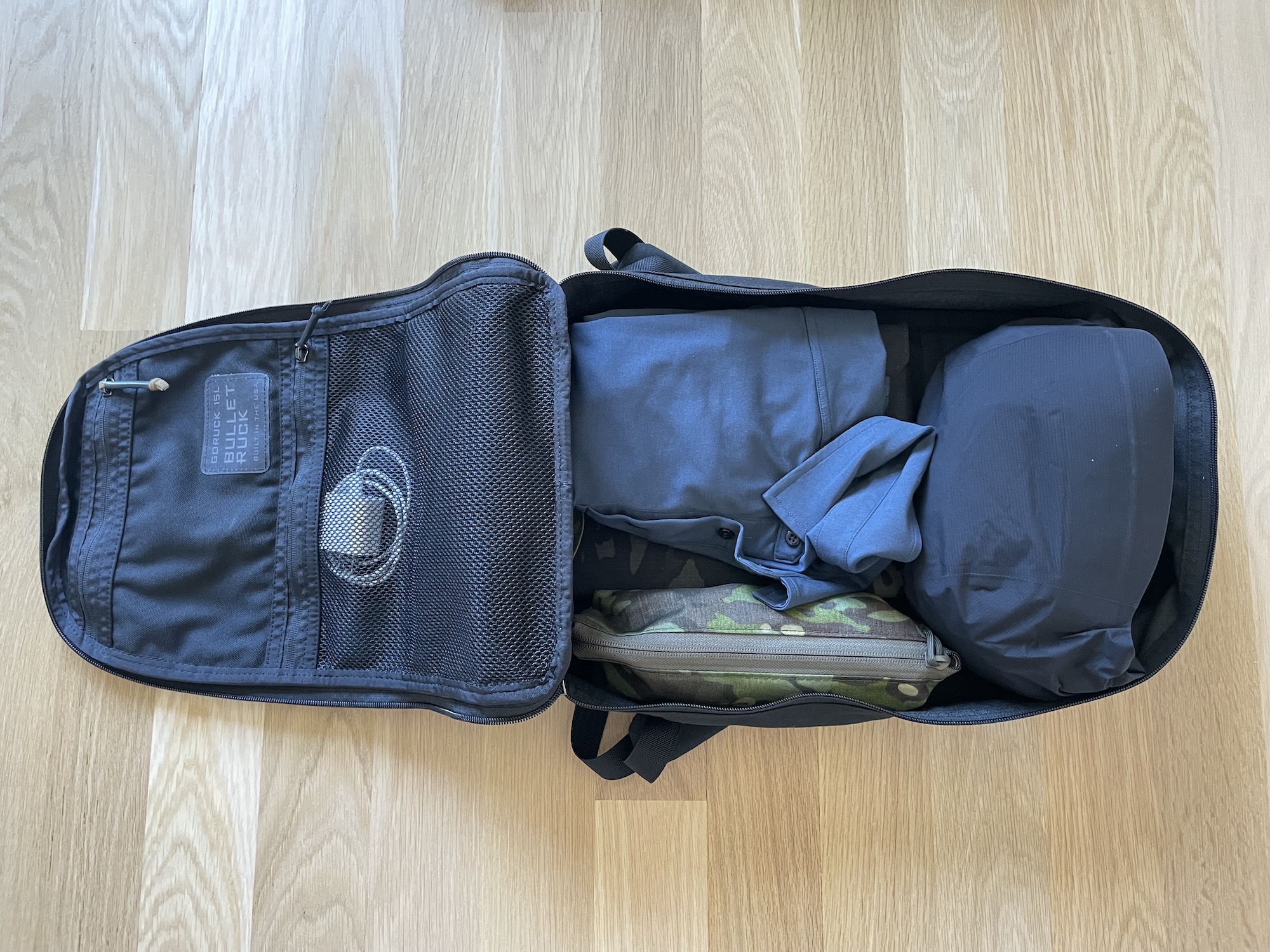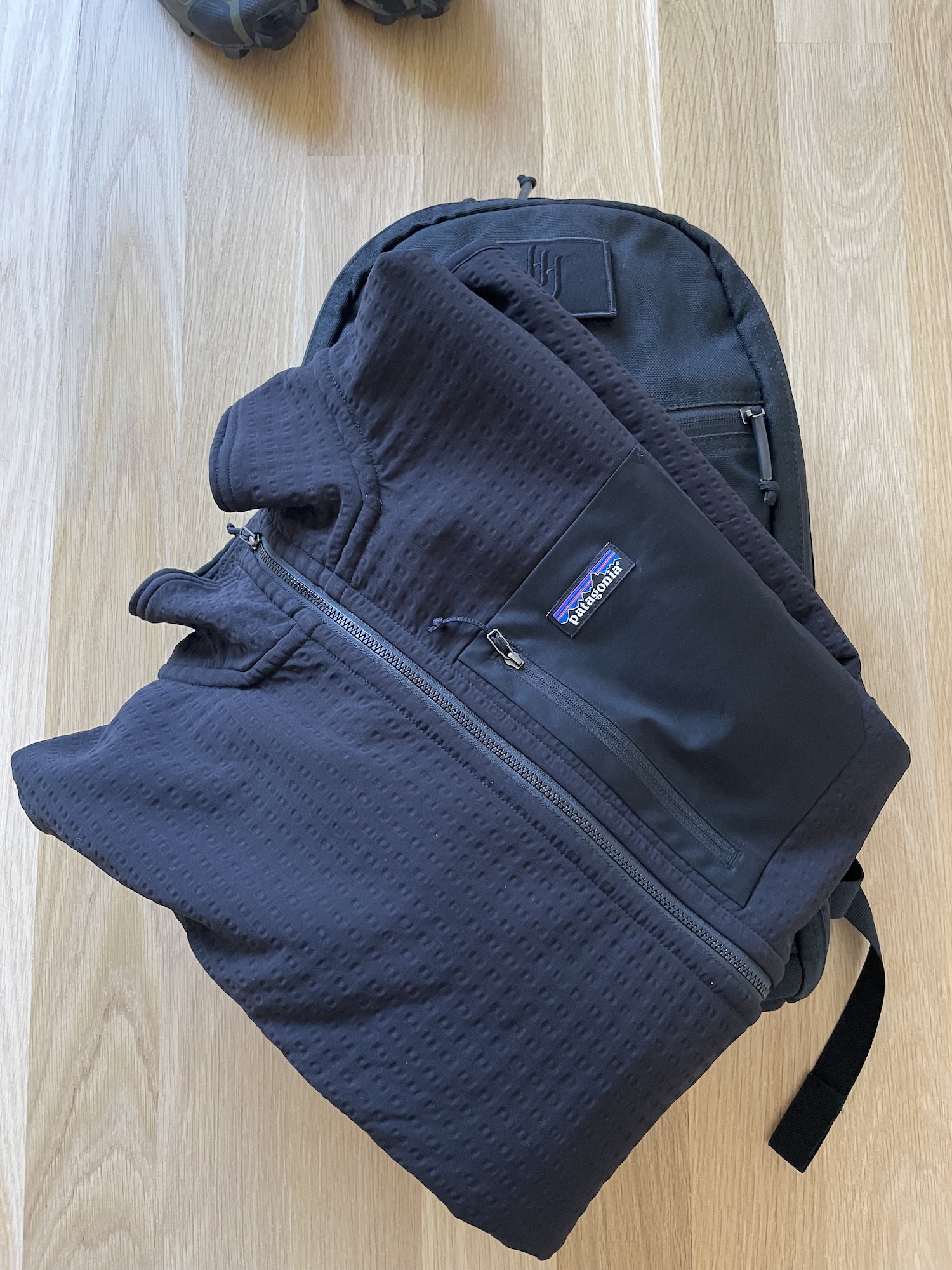 The weather report was calling for scattered rain so I opted to bring a rain jacket. The lightweight Zeta FL has been with me for a few years already and it's so small it packs next to nothing, giving the protection you need when you need it. Over the years I've gotten into the habit of packing a rain jacket or at least a light softshell (like the Patagonia Houdini) when commuting and traveling. Current jackets are so light that it's a no-brainer.
Both polos are light and breathable, and easy to maintain, and if needed dress up. I like polos better than button down shirts because they move better and are more comfortable generally speaking. The same with the jeans, it has extra stretch built in. I generally don't travel with jeans, but in this case I needed the ability to look low key and move quickly. This pair, beyond the stretch, also has a few extra well placed pockets where I can stash things in case of emergency. It's really an easy outfit to wear and care for.
In terms of planning for this, I begin to think about what I need once I know where I'll go (or commute to), the weather, and the general risk level of the area. A little open source intel search online can provide you with most answers, so start there. Once I know the general lay of the land, I can then see if I need to bring stuff for weather or for work, and pack accordingly. Same with electronics and the ability to remain light, like in this case only my iPad. The lighter I can go, and the less electronics I can bring, the better it will be.
Always try to cut at least half of what you think you would need. That usually works for me. And the few times that didn't, I had with me cash that I deliberately brought for those emergency needs, like an extra tshirt, or toiletries.
Overall, I don't need much while traveling. I'm used to less, and I know how to handle a few other things by using my brain. Think ahead and train for the possible emergencies, visualize how you'd react and what you'd do, and go light. I love going light, it's a whole different experience.
Be safe out there and have a great holiday season.