One of the most important things when you commute is to be comfortable. Especially during times when weather can turn wet. Like I mentioned before, having the right clothing that can help remain dry and cool, and continue with your commute and work day in a better way is key.
Traditional dress pants, slacks, or chinos can look good, and they are a staple on a men's wardrobe, however, when it comes to performance or comfort, they don't often deliver. The same can be said from polo shirts, tshirts, and pretty much any piece of clothing in your wardrobe.
Enter Bluffworks. Bluffworks specializes in urban and travel clothing that looks like traditional pieces, but they perform at a higher level. The company makes pants, blazers, and shirts specifically designed for commuting, world travel, and an active lifestyle.
If we are talking performance wear, techwear, and capable clothing, they deliver.
The first piece I'd like to mention is the Field Jacket.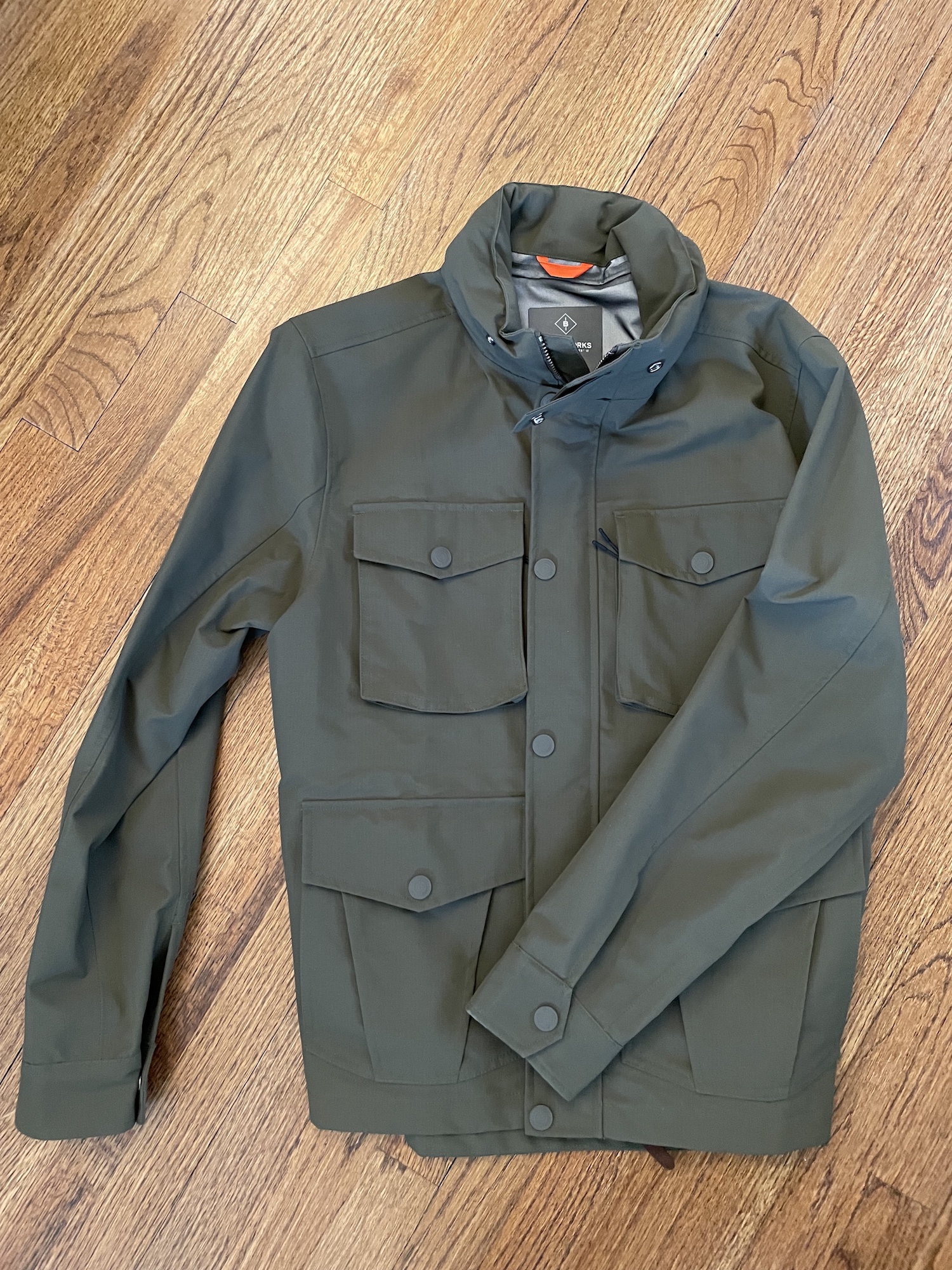 Their idea with this jacket was simple, instead of having to wear a waterproof jacket that looks like you just came out of a mountain, or a coat that was too fancy, you can wear a modern field jacket with lots of pockets, breathable waterproofing, and a hideaway hood. They used a three-layer fabric that combines a nylon ripstop shell, breathable lamination, and a nylon mesh interior. DWR treatment paired with bonded seams provide a seal that ensures water and wind stay out.
It's a burly, but very comfortable jacket. Unfortunately, the Field Jacket has been discotinued. It's a great piece for both commuting and traveling, and I will continue to wear on those drizzly days, where remaining warm and dry is key.
Next is the Gramercy Blazer. A machine washable blazer that's made using technical fabrics. It looks like wool, it's soft, and wrinkle resistant.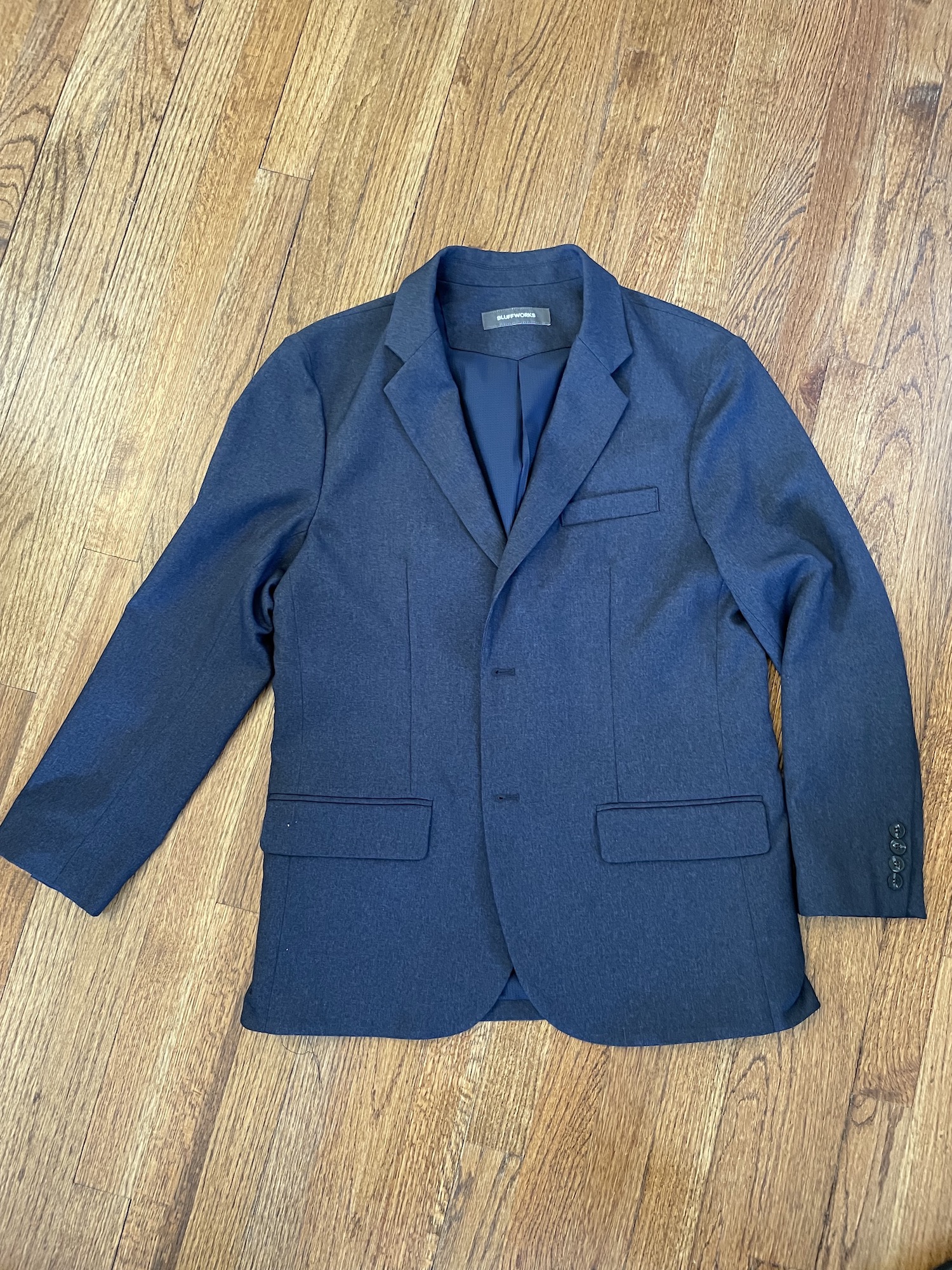 This is something you never thought you needed until you do. Part of my job, well, before the world halted, was to travel in the US and the world to visit customers and perform security assessments. More than once I found myself having to bring a blazer or a suit, and while it's ok to fly with one if needed, the fabrics and the capabilities of those pieces were not the best. Bluffworks solved this with the Blazer, and later the pants to go with them.
I have traveled internationally with this one, packed rolled in the backpack, and it has always came out almost wrinkle-free, ready to wear. Just shake it, and done. It's an easy to care for blazer and it goes well with a pair of chinos or a pair of jeans.
Now, the bottoms. The original Chinos and the newer 5 Pockets Pants.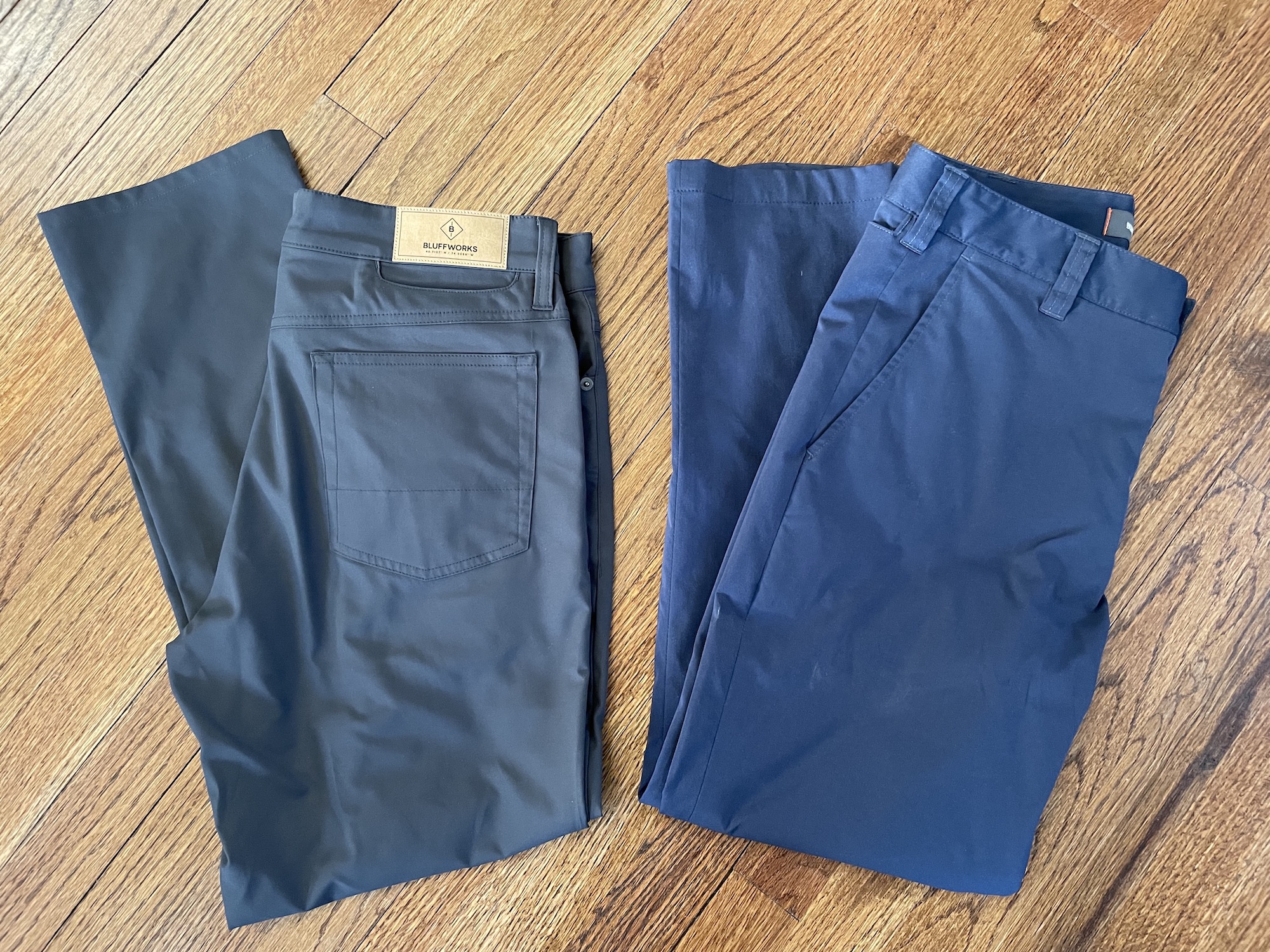 The Bluffworks Chinos and the 5 Pockets Pants combine a tailored office-ready look with technical performance. They used a fabric that is quick drying and wrinkle-resistant, adding extra features to the pants that will provide the urban commuter or traveller, with mobility oriented construction (such as gusseted crotch and stretch fabrics), and safety features (such as hidden zippered pockets for wallets and other valuables). These pants look great with a dress shirt and a jacket, or with a polo shirt, giving you the traditional urban business or techie look, with the added value of comfort, easy of care, and weather ready. In my book, this is something every commuter should have. I bought a couple of them in a trim fit, and a couple in regular.
I have worn these in heavy rain, during long commutes, and some humid days. And while on hot and humid days the fabrics might be a bit heavy, overall these pants are great for commuting to big cities.
One thing I don't like thought, in both cases, is the internal pockets built-in into the front pockets. They get in the way of reaching into the pockets for the phone or wallet, so I cut them. Something to have in mind.
Finally, of course, the tops. The Polo Shirt and the Threshold Crew.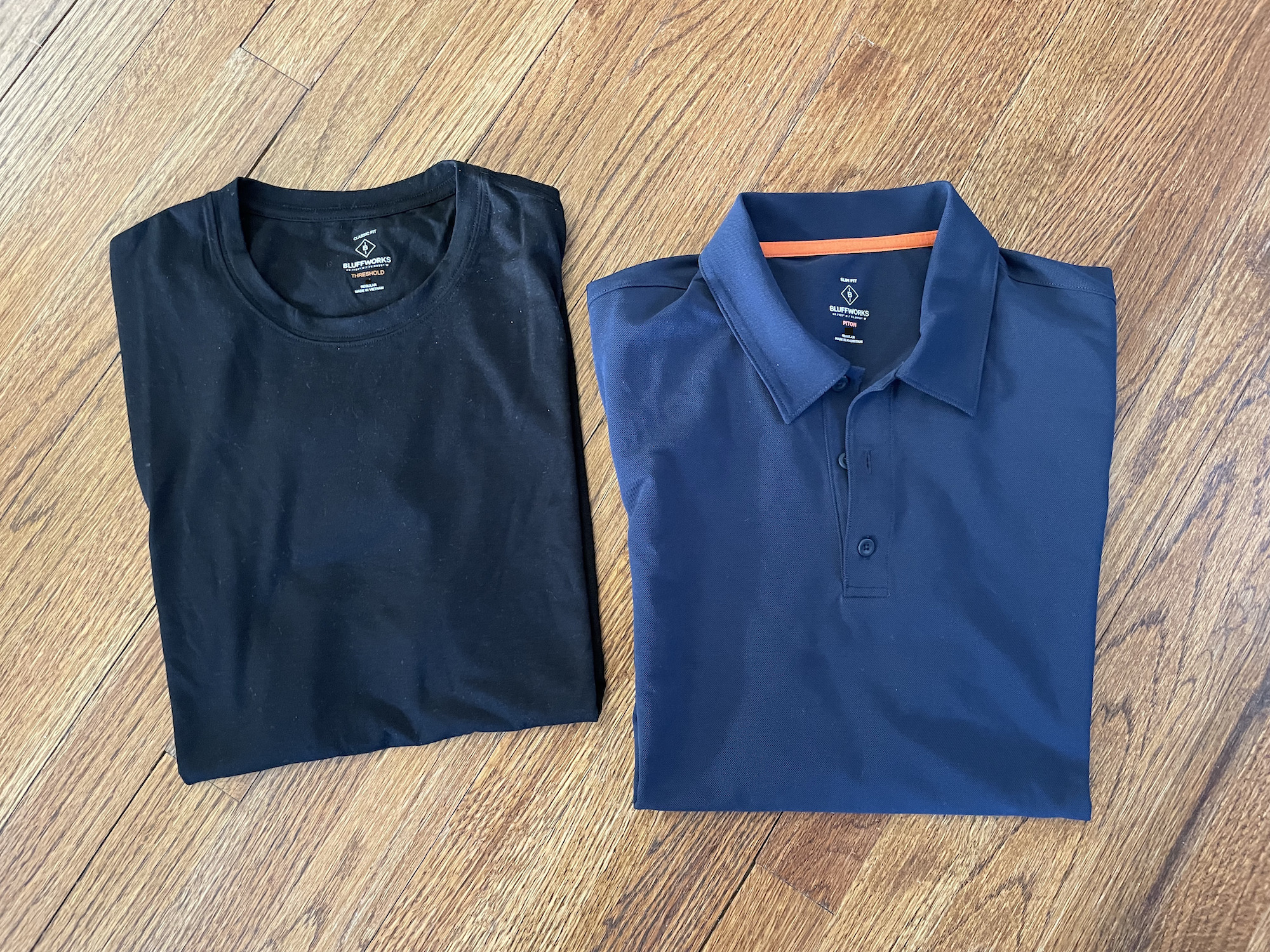 These shirts are moisture wicking, wrinkle resisting, and breathable. They are perfect for work, and later to go hang out at the bar. Both the crews and the polos really go well with dressier, more elegant attires, but they dress down great with jeans or the 5 pockets pants.
I have both long and short sleeve Thresholds, and they are my go to for most days. The Piton Polo is just perfect for a more dressier techie world, so I choose that when I know I'll be hanging out in a nicer hotel or restaurant.
All of Bluffworks clothing provide a great way to look good while remaining capable, dry, and having cloting that will last.
I've been wearing mostly the 5 Pockets during the past fall. They are super versitile, look awesome, and dry fast if you get caught in the rain. I do have a pair in slim, and another one in regular fit, and while the slim is very fashionable, I'm leaning more towards the regular, just as a matter of comfort. Your mile may vary.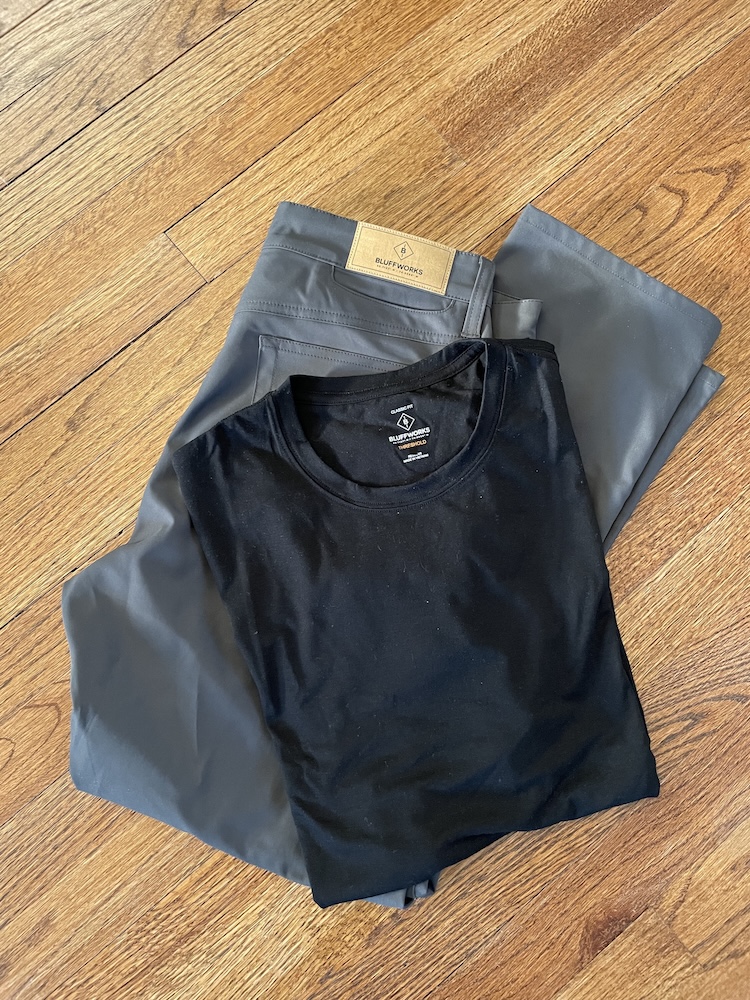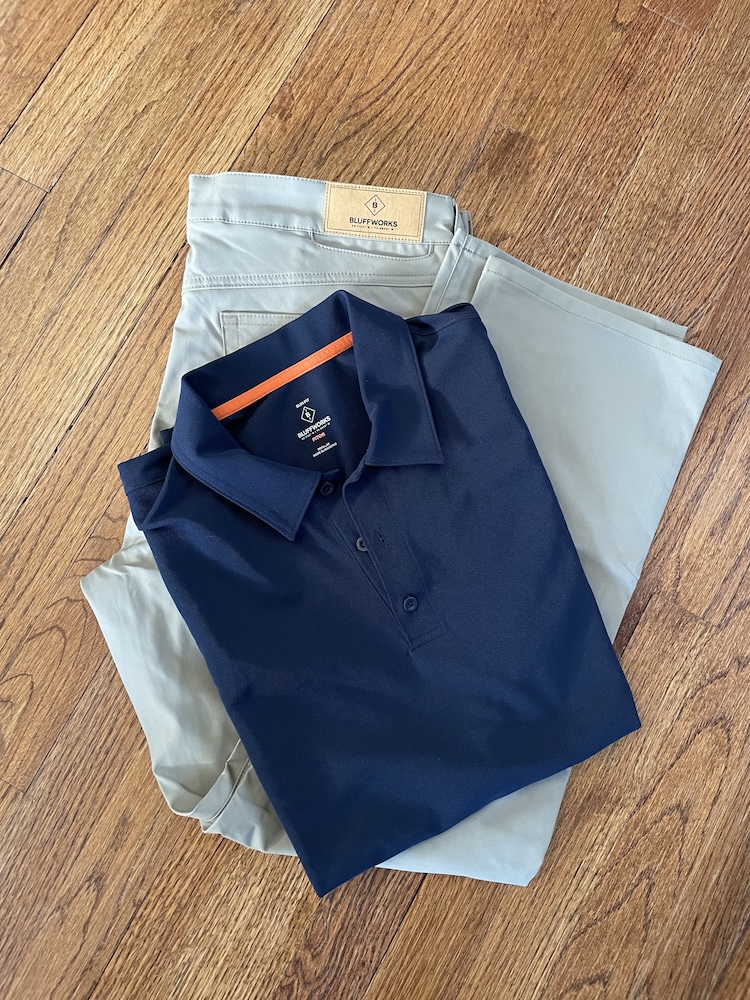 If you are into performance wear, like I am, Bluffworks has a very attractive way to both provide that performance, and look good at the same time. Their designs are simple and timeless, so these are pieces you can count on for years. Head over to read about why it's hard to design and make these types of clothing in: 5 Reasons Developing Great Travel Clothes is So Damn Hard. It's awesome to see how Bluffworks addresses all these issues.
Give them a try. They are great.